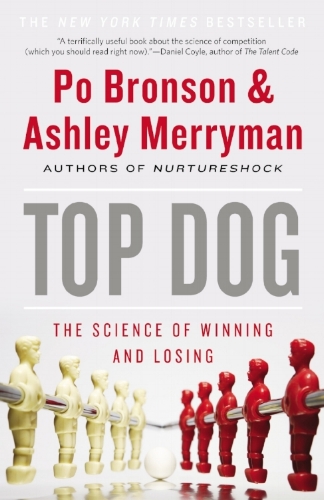 ". . . remarkable . . . will help you rise to the occasion. . . .
fascinating . . . . wildly counterintuitive. . . . "
—San Francisco Chronicle

"You gotta get it. . . . A fascinating topic that we all deal with on a daily basis."
—Fox and Friends

"A book that gives you home field advantage in life's big contests."
Barnes & Noble (Best Books of the Month)
Top Dog is an astonishing blend of science and storytelling to reveal what's really in the heart of a champion. It's about the thrill of victory and the character-building agony of defeat. Testosterone and the neuroscience of mistakes. Why rivals motivate. How home field advantage gets you a raise. What teamwork really requires. It's baseball, the SAT, sales contests, and Linux software. How before da Vinci and FedEx were innovators, first, they were great competitors.

While educators and philosophers are debating it the halls of academia, Olympians, professional athletes, and coaches are carrying Top Dog around in gym bags. It's in the briefcases of Wall Street traders and Madison Ave. madmen. Professional risk takers— from Silicon Valley venture capitalists to Vegas gamblers—are racing to implement its ideas.
According to one study, 74% of the difference between on expert's performance and the next, is due to psychophysiological factors. Top Dog is about mastering those hidden factors, to do your best.
CHAPTER ONE
Scholars didn't get away with these kinds of experiments in the United States. Why the University of Trier's Ethics Board approved of her experiment, we still don't completely understand.
What we do know is that, at some point, Renate Deinzer received her university's blessing. And there she stood—in the middle of a tiny airfield in the Mosel wine region of Germany—facing sixteen terrified people she had convinced to go skydiving for the very first time.
In a single day, each was going from "Total novice who had never done anything like this," to "Mastering advanced free fall."
Scaring people to death was exactly the point of Deinzer's experiment. She was trying to discover how the body responds to incredible stressors: she wanted to know if there was a biochemical expression of fear to match the frightened expressions she saw before her....